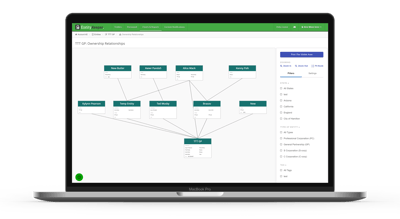 CHARLOTTE, N.C. (March 18, 2020) – EntityKeeper, a software program designed to organize and manage corporate entity information, released a game-changing organizational chart feature today.
The redesigned org chart feature dramatically reduces the complications companies are faced with when building complex organizational charts. The feature gives users the ability to visualize ownership structures and crucial company information in one central, user-friendly chart. Users can easily customize the tool according to the needs of the organization while making updates that reflect changes within the charts and reports in real-time.
"EntityKeeper's redesigned org chart builder streamlines a manual and frustrating process for many companies," said Aynsley Brockway, COO at EntityKeeper. "Simply put, the org chart feature is an easy way to connect users with important data in their company while removing hours of manual processes."
By providing a complete solution for managing and organizing corporate data, EntityKeeper helps organizations remove silos between departments, clients, and vendors. A core component of the redesigned feature includes automating updates across multiple charts and entities, reducing the risk of human error and inaccurate data.
"Our purpose is to support the growth of organizations and help automate critical tasks when it comes to their corporate and entity data," said Brockway. "By providing a solution like EntityKeeper, we help our customers reduce risk and improve operational efficiencies."
Learn more about EntityKeeper's complete set of solutions for building organizational charts and managing entity structures: https://www.entitykeeper.com/
About EntityKeeper

EntityKeeper is software that tracks and manages legal entity data for over 100 companies across the globe. With EntityKeeper, you can easily organize corporate data, visualize ownership structures, store unlimited documents, and manage important filing dates with one secure solution. EntityKeeper is the brainchild of industry mogul Robert Finlay, CPM®, a software-as-a-service entrepreneur that is responsible for some of the most innovative and successful technology companies to launch in over the last twenty years. EntityKeeper is a Thirty Capital company.
Media Contact:
Aynsley Brockway 
833-229-3806
abrockway@entitykeeper.com